DL151BJ Ladies Long Length Lab Coats (Traditional Collar) (39")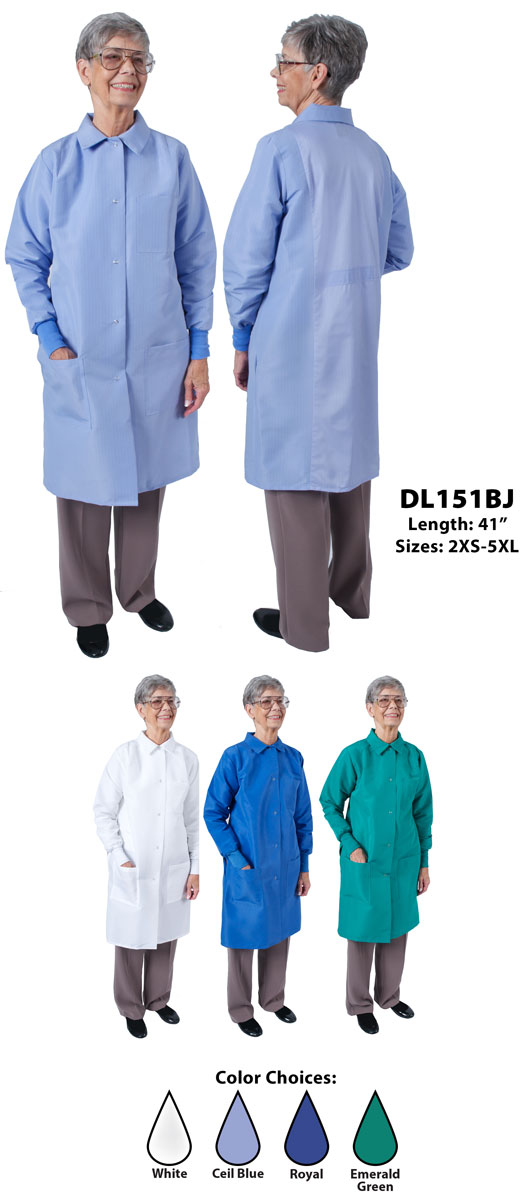 Fabric – Fluid & Stain Resistant, 99% Polyester/1% Carbon, Continuous Filament, Textured Construction
Full Cut A-Line Design


Increased Roominess through Lower Body/Hip Area.
More Air Circulation to Upper Body and Arms.
Better Top of Leg Protection when Seated

Fluid Resistant Front and Back (OSHA 29CFR 1910)


360° Protection – Front, Arms, Splash Past Face to Shoulders & Upper Back
Meets AAMI PB70 Level 2 for Use in BSL-1 & BSL-2 Laboratories

Sanitizing Laundry Process
High Temperature Fabric Enables Coat to be Sanitized per CDC/HICPAC Recommendations for Processing Medical Bloodborne Linen


Steam Tunnel Compatible for Finishing (260° F to 295° F)
Autoclavable Fabric (274° F/135° C)

Breathable Back Fabric – 35.0 CFM


Overall Coat Average – 18.0 CFM, Comparable to Polyester/Cotton Blend

3 Pockets: "No Failure" Stitching.


Double Stitched, Bar Tack Reinforced Top Corners.

90° Corners at Pocket Bottom – Prevents "Punch Out" of Corners.


Cuffs 4" Long, Comfortable, Stain Resistant, Low Pill, Spun Woven Polyester
Tapered Sleeves prevent catching on things when reaching. With the cuffs over-gloved, provides protection to the forearm
Heavy Duty E-Z Snap Closures (Lifetime Guaranteed)
Side Vents for Access to Pant Pockets
Back Belt Detail
Hang Loop on Outside Back of Neck.